The Club takes in new members of any ability from the age of six.  
What are the coaching groups?
From the youngest age group of six, we have a multi-event junior section.  This group will progress through the events up to the age of thirteen where they then think about moving to specialising or becoming a multi-eventer.
From U15 and up athletes can join one or more of the event specialist groups;
sprint group
endurance
jumps group
Athlete Development Pathway
The Athlete Development Pathway defines the athlete's journey on entering the sport.  Athletic development is a systematic process that requires strong foundations.  An athlete entering the sport aged 25 with no prior experience, would still need to begin at the foundation level.
The table shows a high level overview how an athlete can progress from a complete novice to an elite performer.  Within Leamington C&AC an athlete has the opportunity to reach the Event Group Development stage and in some cases the Event Specialist stage.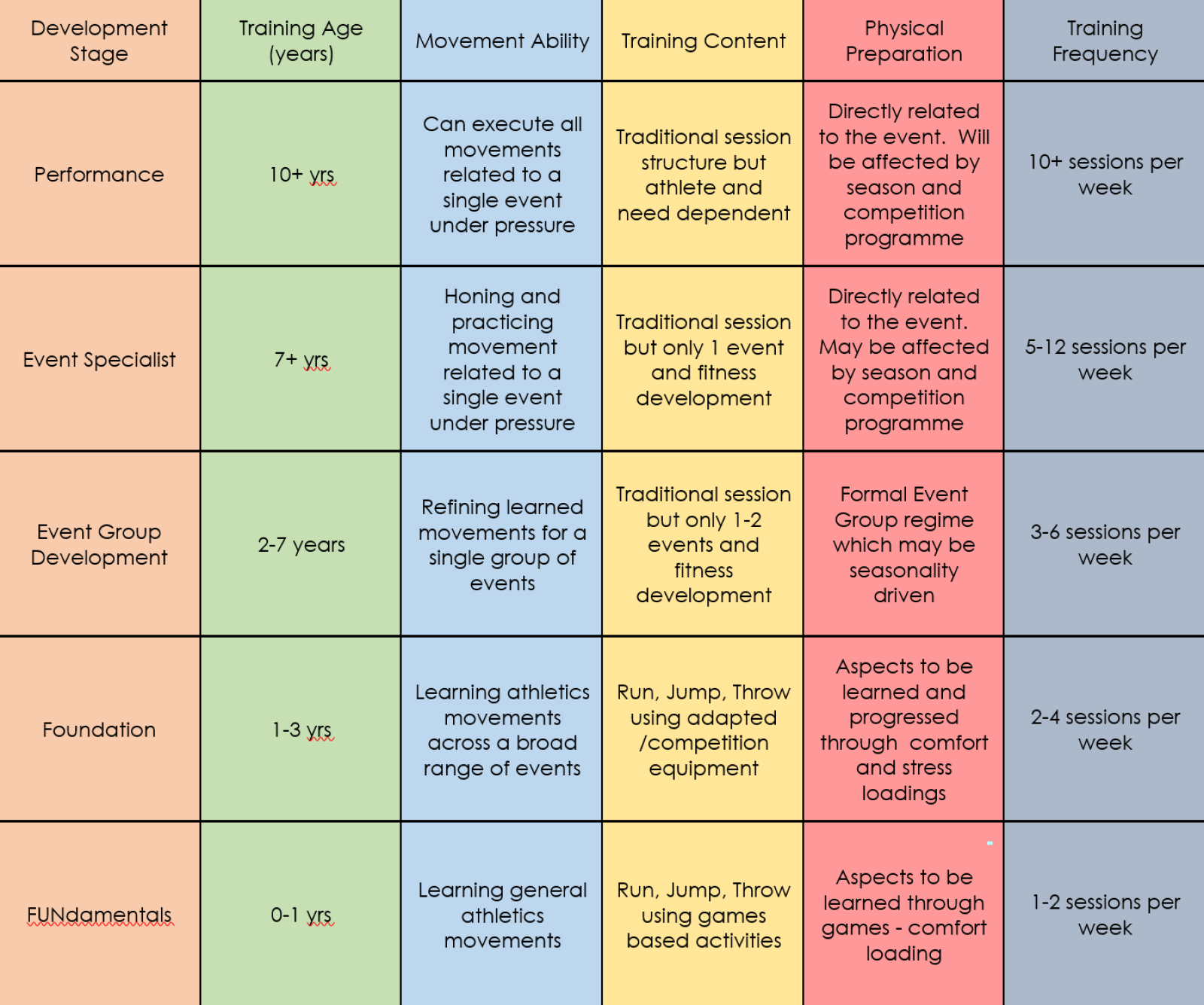 Development Pathway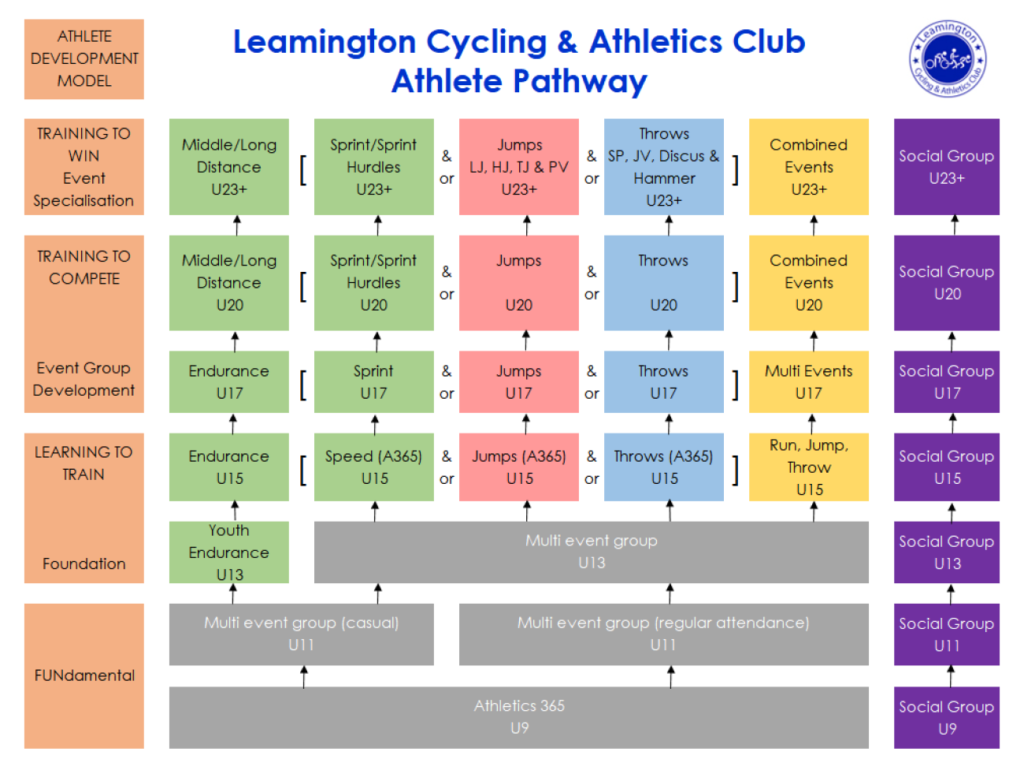 It takes time to develop high level athletics skills but given the correct coaching at the right age, the athlete will remain engaged and progress with confidence.
Leamington C&AC has a defined route for athletes coming into the club at any age.  This is more important at a younger age than someone coming in later in life, though it should be noted that movement skills at all ages are key.  Information is based on UKA Athlete Development Model.  This is available on the Athletics Hub though a login will be required.
Youngsters from 4 to 12 years old should ideally take part in a multi-event session.  This will build a good grounding from which they can start to look at specific events in their mid-teens.  However we are aware that some youngsters will only enjoy running, having participated in Park Runs with parents etc. therefore provision can be made in the younger endurance groups for this.
The following is a list of leagues in which the Club competes.  All members are eligible to take part in one or more leagues age group permitting.
There is a link from the league title to it's respective website, where you will find a lot more information.
Five meetings across the midlands

Season is October through to February

Three meetings for Lower and Upper YDL. Regional final and then National final

Regional meetings in April, May and June. All Track & Field events

Four meetings per season, divisional winners get promoted

Meetings held from April to September. U17 athletes can enter but would use senior weights.

Meetings are localised and take place mid-week.

Final takes place at the start of September

Four meetings per season, clubs take turns to host

Meetings start from November through to February

Four meetings per season.

First meeting is November and goes through to February

A series of varying distance races during the summer season

Normally ten races per season
Katharine Stein

Paul Gussin